My Blog
Posts for: March, 2015
By MVP Smiles
March 25, 2015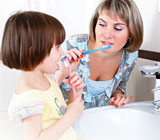 If you are the parent or caregiver of a special needs child or a child with a chronic disease, you face additional challenges when it comes to life's everyday routines. This includes establishing and maintaining good oral health so that your child is not at risk for other healthcare issues due to poor oral hygiene. For these reasons, our office has put together real-world advice that will make a difference in the life of your child.
The visit to our office that can make the biggest difference is your child's first one. However, be sure to contact us in advance of your child's appointment to let us know the details of your child's special needs or chronic disease state. This will give us the opportunity to contact your child's primary care physician or one of his/her specialists before starting treatment to obtain any medical information or special instructions. It will also enable us to be prepared so that we can pay special attention to these needs, as well as to make any necessary modifications to our office and/or equipment. Our primary focus is to work with you and your child's healthcare team towards the same goal. We all want your office visit to go smoothly and comfortably so that your child's first dental experience is a positive one.
Depending on the age of your child and his/her special needs, we most likely will start a gentle process of training and education. For example we will teach your child how to brush properly. It is important that you sit in and participate in this educational process so that you can reinforce this training at home. And little things count; before working with your child at home, you should set the stage so that it will be a comfortable setting with adequate light, fresh water for rinsing, and a mirror. You also need to have all of your supplies handy, such as a toothbrush, toothpaste, floss and rubber gloves (if needed).
To learn more tips, continue reading the Dear Doctor magazine article "How To Care for the Oral Health of Children with Disabilities and Special Needs." Or, you can contact us today to schedule an appointment or to discuss your questions about your child's special oral healthcare needs.
By MVP Smiles
March 10, 2015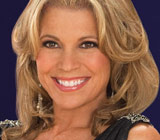 Everyone knows Vanna White as the elegant co-host of the popular game show Wheel of Fortune. But here's one thing you may not know: White is listed in the Guinness Book of World Records as television's most frequent clapper, with an average of 720 claps per show — that's over 28,000 per season! And here's something else: the star with the megawatt smile wore braces as a kid, and she's not too shy to talk about it.
"I only had to wear them for a year and it was a good experience for me," she told an interviewer for Dear Doctor magazine. But when it was time for her son to get them, White noticed something different. "We used to have those silver bands that went all the way around each tooth, and they don't have that anymore. It is fascinating to see how far they have come."
We're glad she noticed! In fact, orthodontic appliances have advanced a good deal in the past decade or so. Instead of using metal bands, brackets holding the wire part of braces are now typically attached directly to the teeth with a dental adhesive. For an even less obtrusive look, ask about using colorless brackets instead of metal ones — that way, the only part that's clearly visible is the thin wire itself. And in some situations, braces can be placed on the lingual (tongue) side of the teeth, making them all but invisible.
Another type of nearly invisible appliance is the clear orthodontic aligner. The aligner system consists of a series of precision-made transparent "trays" that fit over the teeth. Each tray is worn for a few weeks, and each moves your teeth by a small amount; together, they can help correct mild to moderate orthodontic problems. And the best part — they're really hard to notice! That makes them perfect for both adults concerned about a "professional" look, and image-conscious teens.
So if you're a TV star — or if you'd just like to have a brighter and better smile — it's never too late to get started! If you would like more information about orthodontics, please contact us for a consultation. You can learn more in the Dear Doctor magazine articles "The Magic of Orthodontics" and "Clear Orthodontic Aligners."