My Blog
Posts for: October, 2020
By MVP Smiles
October 18, 2020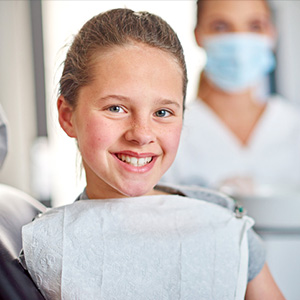 You have a wonderful pediatric dentist who's great with kids. Their dental office is a children's wonderland with cheerful colors, toys and a staff that tries to make things fun. But no matter what you do—including rewards and positive praise—it's not enough to calm your child's anxiety during dental visits.
Even with the most conducive clinical environment and parental efforts, some children still have an inordinate fear of seeing the dentist. Their anxiety could be a roadblock to getting the treatment they need to maintain good oral health and development. And if that fear carries over into adulthood, they may get into the habit of postponing needed care.
But dentists have an important tool they can use to help children relax: conscious sedation therapy. Using proven sedation medication, dentists can place patients in varying degrees of suppressed consciousness.
Although often used in conjunction, sedation is not the same as anesthesia. The latter is used to eliminate pain during dental procedures. Sedation, on the other hand, aims to calm the negative emotions generated by dental anxiety. A child under sedation can still breathe normally without assistance and respond to physical stimulation or verbal commands.
Sedation medications can be administered orally, usually in syrup form, or with an intravenous (IV) drip. Two of the more popular drugs are Midazolam and Hydroxyzine, both of which act fast and then leave the body quickly after the procedure. These types of sedation drugs have a very low risk of side effects compared to general anesthesia.
While under sedation, the child's vital signs (heart rate, respiration, blood pressure, etc.) are continuously monitored. Afterward, they'll wait in recovery until their vital signs are back to their pre-sedation levels. They can then go home to rest for the remainder of the day, and then usually return to school or other normal activities the following day.
Besides making it easier for a child to receive needed dental care, conscious sedation can also make the overall visit more pleasant, and lead to more positive memories of the experience. This may indeed help them later in life to overcome any lingering anxiety and continue regular dental care throughout adulthood.
If you would like more information on reducing your child's dental visit anxiety, please contact us or schedule an appointment for a consultation. You can also learn more about this topic by reading the Dear Doctor magazine article "Sedation Dentistry for Kids."
By MVP Smiles
October 08, 2020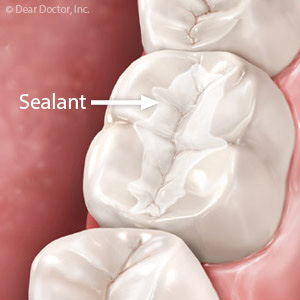 Your child could hit a speed bump on their road to dental maturity—tooth decay. In fact, children are susceptible to an aggressive form of decay known as Early Childhood Caries (ECC) that can lead to tooth loss and possible bite issues for other teeth.
But dentists have a few weapons in their arsenal for helping children avoid tooth decay. One of these used for many years now is the application of sealants to the biting surfaces of both primary and permanent teeth. Now, two major research studies have produced evidence that sealant applications help reduce children's tooth decay.
Applying sealant is a quick and painless procedure that doesn't require drilling or anesthesia. A dentist brushes the sealant in liquid form to the nooks and crannies of a tooth's biting surfaces, which tend to accumulate decay-causing bacterial plaque. They then use a curing light to harden the sealant.
The studies previously mentioned that involved thousands of patients over a number of years, found that pediatric patients without dental sealants were more than three times likely to get cavities compared to those who had sealants applied to their teeth. The studies also found the beneficial effect of a sealant could last four years or more after its application.
The American Dental Association and the American Academy of Pediatric Dentistry recommend sealants for children, especially those at high risk for decay. It's common practice now for children to first get sealants when their first permanent molars erupt (teeth that are highly susceptible to decay), usually between the ages of 5 and 7, and then later as additional molars come in.
There is a modest cost for sealant applications, but far less than the potential costs for decay treatment and later bite issues. Having your child undergo sealant treatment is a worthwhile investment: It could prevent decay and tooth loss in the near-term, and also help your child avoid more extensive dental problems in the future.
If you would like more information on sealants and other preventive measures for children's teeth, please contact us or schedule an appointment for a consultation.